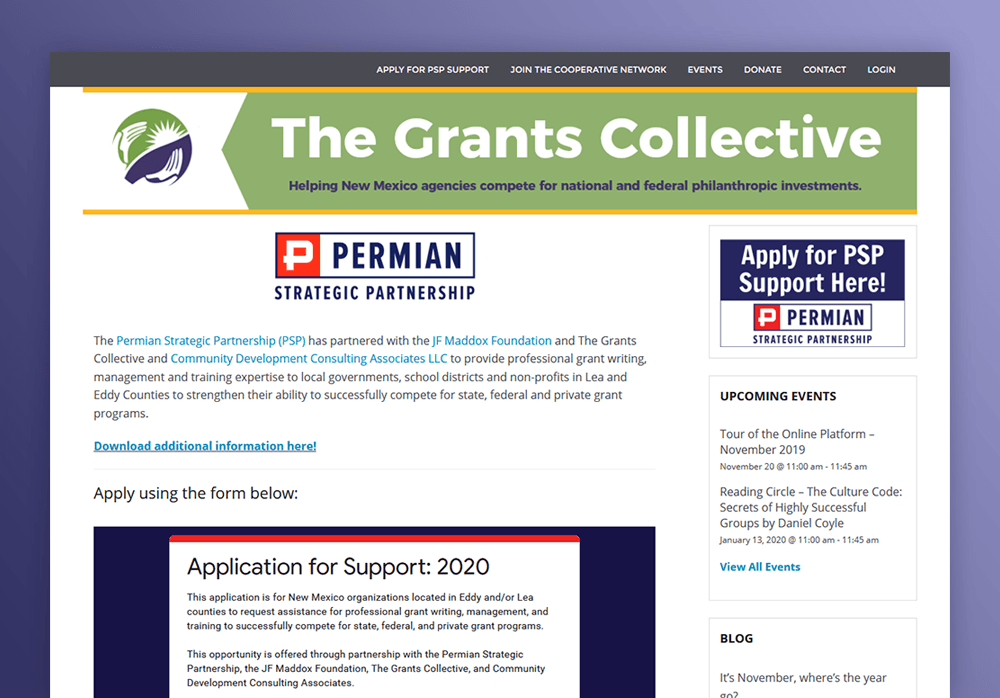 Hobbs and Carlsbad, New Mexico – On October 2nd, the Permian Strategic Partnership (PSP) launched the grant assistance portal in partnership with the JF Maddox Foundation, The Grants Collective and Community Development Consulting Associates LLC to provide professional grant writing, management and training expertise to local governments, school districts and non-profits in Lea and Eddy Counties to strengthen their ability to successfully compete for state, federal and private grant programs.
The portal site is located on the The Grants Collective website: www.thegrantscollective.org. Applications through the site will be reviewed on a rolling basis for potential selection. Eligible organizations include non-profit organizations and local governments, including the county, municipalities, school districts, other government corporations and agencies. Organizations may submit multiple applications for different projects.
PSP is providing $500,000 in funding to support the program: $250,000 dedicated to Lea County and $250,000 dedicated to Eddy County for projects which fall under the five PSP focus areas of public education, housing, healthcare, road safety, and workforce development. The JF Maddox Foundation is contributing an additional $125,000 for the program in Lea County bringing that total to $375,000. The Lea County Community Improvement Corporation will administer the program in Lea County through Community Development Consulting Associates; The Grants Collective will administer the program in Eddy County.
###
Background
The Permian Strategic Partnership is a coalition of leading Permian Basin energy companies who joined together to work in partnership with leaders across the region's communities to address current and future challenges to the responsible development of the vast oil and natural gas resources of the Permian Basin in the states of New Mexico and Texas.
PSP seeks to improve the quality of place for Permian Basin families by partnering with local leaders to develop and implement strategic plans and projects to address needs with regard to public education, housing, healthcare, road safety, and workforce development.
More information on PSP is available here – www.permianpartnership.org
More information on the JF Maddox Foundation is available here – www.jfmaddox.org
More information on Community Development Consulting Associates LLC is available here – www.cdcallc.com
More information on The Grants Collective is available here – www.thegrantscollective.org